Farmington-Four Corners
Regional Airport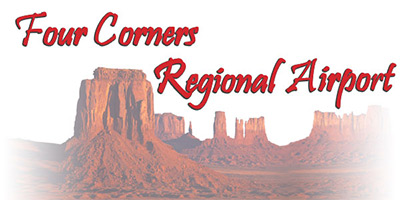 The Farmington-Four Corners Regional Airport is a Class D general aviation airport with two runways and an air traffic control tower. The airfield serves San Juan County in northwestern New Mexico including the cities of Farmington, Aztec, Bloomfield, and Shiprock. Located in Farmington, the airport sits on top of a plateau where its two runways drop off at all ends. Farmington has not seen commercial airline service since 2017 but continues to search for prospective opportunities.
Originally called the Farmington Municipal Airport, the facility was renamed to the Four Corners Regional Airport in 1985. The current terminal was first constructed in 1952 and received an extension to the south at an unknown time. The airport saw a considerable amount of commercial airline service from 1947 until 2017, primarily by the original Frontier Airlines which served the city until 1985. From the mid-1950's until 1970, Frontier operated a small hub at Farmington with flights to cities throughout the four-corners states. In the late 1970's, Frontier began considering flying their Boeing 737 jets into Farmington from their hub in Denver and needed a longer runway to do so. A new airport was proposed in the region surrounded by the cities of Farmington, Aztec, and Bloomfield, New Mexico and a bond election was held to build the new airport but was voted down. Frontier did try flying their 737's into the Four Corners Airport for two years however the flights were deeply weight restricted for takeoff and were required to stop in Durango, Colorado for additional fuel before making a flight to Denver. The airport then saw service by numerous commuter and regional airlines since the 1980's, the largest by far was Mesa Airlines. Mesa was headquartered in Farmington and served the airport from 1980 through 2008. The carrier provided service to all major cities in the four-corners states and operated code-share alliances with both United and America West Airlines. As regional jets began replacing prop aircraft in the late 1990's, Farmington began seeing a loss in their commercial air traffic with passengers opting to fly out of the Durango airport which could accommodate jets. The last commercial airline service ended in 2017 and now the airport primarily handles general aviation as well as light cargo aircraft operating on behalf of FedEx and UPS. Farmington has since made improvements to their runways allowing for operations by certain types of jets and the and the city is continuously searching for a provider to return commercial flights back to the airport.
Historical commercial airline service:
Air Terminal
Commercial airline service began at Farmington on April 1, 1947 when Monarch Airlines introduced flights between Salt Lake City and Albuquerque with many stops enroute including Farmington. Service to Denver was also operated with several stops as well and the aircraft used was the Douglas DC-3 capable of transporting 24 passengers. On June 1, 1950, Monarch merged with two other air carriers and the three became known as Frontier Airlines. One of the other two airlines, Arizona Airways, provided routes throughout Arizona and the merger introduced a new route from Denver to Phoenix, stopping at Farmington and several other points. Farmington was designated as the crisscross point between the Salt Lake City to Albuquerque and Denver to Phoenix routes and the schedules were timed to have flights coming from all four directions and be on the ground at Farmington all at the same time. This was done twice each day which made Farmington the first hub for Frontier long before Denver became the carriers' primary hub in the late 1950's. In 1959 Frontier began acquiring larger Convair 340 aircraft and operating some flights nonstop from Farmington to Phoenix and Salt Lake City. At times a fifth flight would operate during the crisscross hub complexes at Farmington flying nonstop to a major city while another flight in the same direction would make several stops.
In 1963 the Albuquerque route was extended onto El Paso, Texas and through the mid 1960's the Convair 340's were upgraded with turboprop engines and re-designated as the Convair 580. By 1966 the DC-3's were retired and all flights at Farmington, up to 12 per day, were operating with Convair 580's. By the latter years of the 1960's, Frontier introduced jet service by acquiring Boeing 727's which permitted the carrier to begin nonstop flights from Denver to Phoenix and Albuquerque and eliminate the need for all flights to go through Farmington. The four to five plane hub complexes ended by 1970 however Frontier maintained a large operation at Farmington with up to ten flights scheduled throughout each day still operating in all four directions. Through the 1970's Frontier grew impressively and began planning on becoming an all-jet airline with Boeing 737's (the carrier had switched from 727's to 737's by 1972). For a brief time in 1976, Frontier's service to Cortez, Colorado was replaced by Western Air Stages using DC-3's on a Farmington-Cortez-Grand Junction route. Frontier began scaling back at Farmington in 1978 when the flights to Salt Lake City were discontinued followed by the direct flights to Phoenix the following year. By this time the carrier was quickly phasing out its propjet Convair 580 aircraft and ended the Albuquerque flights in late 1981.
On June 1, 1982, Frontier became all jet and the remaining flights to Denver were upgraded to the 100-seat Boeing 737 jets. Flights operated nonstop from Denver to Farmington however all flights back to Denver required a stop in Durango, Colorado not only to drop off and pick up more passengers but also to refuel as the Farmington airport runways were not long enough for a 737-200 to take-off and operate nonstop to Denver. The jets served Farmington for two years until Frontier began falling on hard times and contracted its service at Farmington and Durango to Combs Airways acting as "Frontier Commuter". Combs operated former Frontier Convair 580's still painted in the colors of Frontier Airlines. Unfortunately, this service was short lived and ended by early 1985 which also ended all Frontier Airlines representation at Farmington. Frontier itself closed their doors the following year.
As Frontier began trimming its Farmington schedule in the late 1970's, new commuter airlines began service. They are as follows:
The Santa Fe Airline Company operated flights on a Farmington-Santa Fe-Albuquerque route in 1974 using an Aero Commander 500 aircraft.
Zia Airlines provided flights to Santa Fe and Albuquerque from September 2, 1978 through May 12, 1980 using Cessna 402 and Handley-Page Jetstream aircraft.
Sun West Airlines commenced operations in March, 1980 with a Phoenix-Gallup-Farmington-Durango route using Piper Navajo's. Flights to Albuquerque were added later that year and all flights were upgraded to 14-seat Beechcraft 99's by 1984.
Nonstop flights to Phoenix were also added periodically but Sun West discontinued all of its service to Farmington by September, 1984.
Air Midwest began flights from Farmington to Albuquerque on February 1, 1982 using Swearingen Metroliner aircraft. Service to Phoenix was added for most of the year of 1983. The carrier ended all of its Farmington service on January 31, 1986.
Pioneer Airlines also began Farmington service in early 1982 with flights to Denver but ended the service by August of that year. The carrier returned on June 1, 1983 with flights to both Albuquerque and Denver but ended all service once again about three months later. Pioneer used Swearingen Metroliner and Beech-99 commuter aircraft.
Trans-Colorado Airlines began service to Farmington on February 3, 1986 with flights to Albuquerque and Denver and became a Continental Express affiliate on behalf of Continental Airlines by June of that year. The carrier also used Swearingen Metroliner aircraft and, for a short time in April, 1987, Convair 580 aircraft were used on select flights to Albuquerque. All service ended on July 31, 1987.
Aspen Airways originally started service to Farmington on March 1, 1979 with Convair 580 flights to both Albuquerque and Denver. The service ended by November of that year however the carrier returned on April 24, 1983 with flights to Denver, competing with Frontier's 737 jets. Aspen prevailed however and became the dominate carrier to Denver after the withdrawal of Frontier in early 1985. Aspen soon upgraded some of their flights with 85-seat British Aerospace 146 jets and became an affiliate with United Airlines as United Express in September, 1986. This service continued until March 25, 1990 when Aspen Airways was liquidated and largely bought out by Mesa Airlines.
Mesa Airlines was born and headquartered in Farmington, beginning operations on October 12, 1980 with a single 5-seat Piper Saratoga aircraft and a route to Albuquerque. A few months later a Piper Navajo aircraft was added and new routes began from Farmington to Denver as well as to Grand Junction, Colorado and Vernal, Utah. The new routes were short lived but the Albuquerque route performed well and larger 14-seat Beechcraft 99's were obtained beginning in 1983. New flights to Phoenix with a stop in Gallup, New Mexico were added in late 1985 after Sun West ended service and 19-seat Beech 1900 aircraft were introduced to the Mesa fleet. By 1987 flights to Albuquerque were increased to every hour on the hour. A pair of smaller 9-seat Cessna Caravans were obtained in 1987 being used briefly for shuttles from Farmington to Durango, Cortez, and Telluride, Colorado so that passengers could fly into Farmington from Albuquerque and Phoenix and connect to these cities essentially making Farmington a small hub. Nonstop service from Farmington to Denver was briefly operated in the spring of 1988 followed by nonstop flights to Salt Lake City which operated for about four months in the latter half of 1988. In mid-1989 new service to Cortez began with three daily flights that continued to Denver and 13-seat Beech 1300 aircraft were obtained to replace the Beech 99's.
In 1990, Mesa acquired much of the assets of Aspen Airways and on April 1 of that year began a United Express feeder operation on all service to Denver. Nonstop flights from Farmington to Denver were reinstated as United Express along with several other flights that stopped at either Cortez, Durango, Grand Junction, Gunnison, or Montrose, Colorado. By the mid 1990's there were up to 13 flights per day between Farmington and Denver and larger 30-seat Embraer Brasilia and 37-seat de-Havilland Dash-8 aircraft were acquired. The Brasilia's were also used on some of Mesa's flights to Albuquerque for a short time in 1992. Mesa's operation as United Express ended on April 22, 1998 which ended all flights to Denver. Great Lakes Airlines then took with United Express affiliate to Denver.
On November 1, 1992 Mesa began a second major airline contract with America West Airlines and all Phoenix flights were converted to operate as America West Express (AWE) using Beech-1900 and Embraer Brasilia aircraft. Nonstop flights to Las Vegas were also operated as AWE in 1994 through 1995. For a brief time in 2001, one Phoenix flight was operated with a Dash-8 aircraft. America West merged with US Airways in 2007 and the AWE flights were converted to US Airways Express. For a brief time in 2007/2008 service to Las Vegas returned with a stop at Cedar City, Utah and service to Salt Lake City was reinstated with flights that stopped in Moab or Vernal, Utah.
American Eagle, operated by Wings West Airlines on behalf of American Airlines, served Farmington from September 8, 1994 through September 30, 1995. American Eagle provided a single daily flight to Dallas/Fort Worth with a stop at Lubbock, Texas as well as a single flight to Las Vegas that continued to Los Angeles. American Eagle used Saab-340 aircraft and, during March of 1995, larger ATR-42 aircraft were used.
For much of the 1990's decade, Mesa was the only carrier serving Farmington although it was spread out over three divisions, United Express to Denver, America West Express/US Airways Express to Phoenix, and the independent operation to Albuquerque. In mid-1993 Mesa's three divisions were flying up to 31 daily departures from the small Farmington airport. Mesa had bought out an earlier rival, Air Midwest, in 1991 and converted all flights flown with Beech-1900 aircraft to operate under the Air Midwest certificate on January 3, 2001 although they were still designated as Mesa Airlines. By late in the 1990's decade, passenger traffic on commuter airlines began to decline and Mesa slowly cut back on all of its service. The United Express flights to Denver ended in 1998 and all independent flights to Albuquerque were discontinued by the end of 2007. The final flights to Phoenix operating as US Airways Express were discontinued on May 30, 2008. Mesa had served Farmington for nearly 28 years and became the second workhorse carrier there following the original Frontier Airlines.
Rio Grande Air briefly served Farmington from February 19 through December 8 of 2001. The carrier operated flights to Albuquerque using Cessna 208 Caravan aircraft.
Great Lakes Airlines began service on June 1, 1998 as United Express with Beech-1900D flights to Denver after Mesa Airlines ended its United Express service. In 2002 Great Lakes also lost its designation as United Express but continued to serve Farmington from Denver under its own brand. An aircraft maintenance base was established and new westbound flights were periodically added to Phoenix, Las Vegas, Los Angeles, and Ontario, California, each making at least one stop enroute. In 2013 Great Lakes was severely impacted by new and very stringent regulations put on pilots and was forced to cut back on its service to Farmington. By summer, 2016, only a single flight to Denver was operated and only on a few select days per month. It appeared the carrier was close to ending its service at Farmington however in the fall of 2016 Great Lakes made a renewed effort to its service by reinstating three daily flights to Denver. A weekly flight to Phoenix via Page, Arizona was also added as well as a bi-weekly flight to Los Angeles with a stop at Prescott, Arizona. The Los Angeles flights as well as two flights per week to Denver were flown with larger, 30-seat Embraer Brasilia aircraft, the first time for Great Lakes to operate this aircraft type at Farmington. The renewed effort was short lived however and service was reduced in the fall of 2017 to only two flights per week to both Denver and Los Angeles. All service ended soon after on October 30, 2017.
As Frontier Airlines was designated as a local service carrier and was serving Farmington when the Airline Deregulation Act was passed in 1978, the city was covered under an Essential Air Service program (EAS) guaranteeing that a city would not lose all service and that the government would pay a subsidy to a carrier if needed to maintain service. However, the EAS program went through a reform in 2012 where as any city being served without subsidy at that time was taken off the program. Unfortunately, Farmington was served without subsidy by Great Lakes Airlines and therefore was taken off the program. After Great Lakes ended service in 2017, no other carrier has stepped in to serve Farmington and it is now unlikely that another carrier will voluntarily serve the city without a substantial financial backing. The nearby city of Cortez, Colorado, which is much smaller than Farmington, is funded by EAS subsidies and is served by a regional airline with flights to Denver, and Phoenix. But the primary airport to serve the four corners region has now become the La Plata County Airport at Durango, Colorado. Durango is fully self-sufficient and served by American Eagle with flights to Dallas/Fort Worth and Phoenix, as well as by United Airlines and United Express with flights to Denver. All major airlines have now phased out all prop aircraft from their regional carriers' fleets and all flights serving Durango are now flown with larger regional and mainline jets accommodating from 50 to 128 passengers. It appears that most of the traffic from Farmington is now using the Durango airport or driving nearly 200 miles to the Albuquerque International Sunport. The major airlines have also largely taken the approach of only serving one city in a general area and it appears that the Durango airport will most likely remain the airport of choice in the Four Corners region for the foreseeable future.
After the loss of all commercial service in 2017, the Farmington airport began an upgrade of its runways and taxiways as well as modifying the terminal building to comply with the latest regulations on handling TSA screening and jet traffic. By 2020 the airport was certified to handle regional jets on a routine basis and received a Small Community Air Service Development Program grant to help it reinstate commercial air service. SkyWest Airlines, operating on behalf of United Airlines as United Express, agreed to begin service with a single 50-seat CRJ-200 regional jet to Denver which was set to start on October 15, 2020. The COVID-19 pandemic that began in the spring of 2020 caused a tremendous down surge in air travel putting the air service plan on an indefinite hold. As passenger traffic recovered, SkyWest, along with most of the airline industry, began to experience a shortage of pilots by late 2021 which ultimately cancelled the carriers plans for any new service. The Farmington airport continues to search for possibilities on reinstating commercial air service.
Farmington also receives daily air freight service from the following carriers:
AirDialog operates as FedEx Feeder on behalf of FedEx with two daily flights from Albuquerque using Cessna 208B Super Cargomaster aircraft. AirDialog replaced Empire Airlines on the route in 2022.
South Aero provides feeder service to UPS with a daily flight to Albuquerque using Cessna 208 Caravan or Cessna 404 Titan aircraft.
Ameriflight formerly provided service on behalf of UPS with a single flight from Albuquerque using a Piper Navajo aircraft through 2018.