Las Vegas, New Mexico Municipal Airport
Commercial Airfield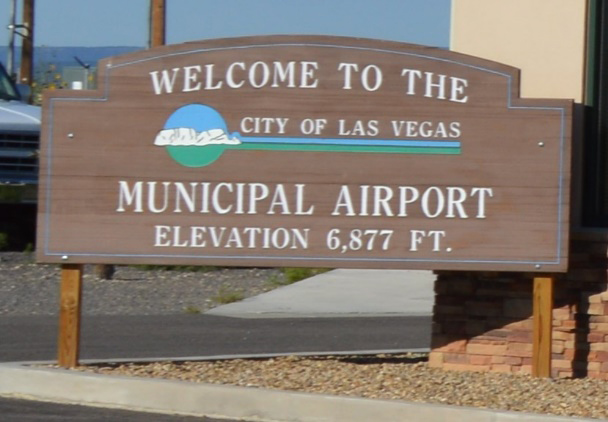 Las Vegas, New Mexico was an important stop and one of several stops along the first north-south air route from Denver to Albuquerque and El Paso established in 1929. Las Vegas, New Mexico was better known than Las Vegas, Nevada at the time. Several commercial airlines served the airport from 1929 until 1970 with one last carrier making an effort in 1990.
Historical commercial airline service:
Air Terminal
Mid-Continent Airlines, created with financial backing from Western Air Express, was the first carrier to operate the north-south route which included stops in Colorado Springs, Pueblo, and Santa Fe. Single-engine Fokker 8 Super Universal aircraft were used. Mid-Continent was merged in with parent company Western Air Express in September, 1931, however service to Las Vegas was suspended before or shortly after the merger.
Varney Speed Lines began serving the north-south route on July 15, 1934 but only operated north as far as Pueblo, Colorado. From there passengers connected to another carrier onto Denver. The name was changed to Varney Air Transport in December 1934 and the carrier used single engine Lockheed 5 Vega aircraft. Lockheed Electra aircraft were later acquired and the name was again changed to Continental Air Lines on July 1, 1937. The north-south route was extended north back to Denver and the stop at Las Vegas was suspended once again at this time but restarted by August 1, 1940. Continental initially used Lockheed Electra followed with Lockheed Lodestar aircraft. By 1944 Continental had upgraded to Douglas DC-3 aircraft and another stop at Trinidad, Colorado was added. More stops were added at Raton, Socorro, Truth or Consequences, and Las Cruces, New Mexico by 1950 and all service to Las Vegas was suspended indefinitely by mid-1952 due to airport conditions. Continental had planned to return to the airport until as late as 1956 but service never restarted.
Pioneer Airlines began serving Las Vegas on May 1, 1948 as one of many stops on a route between Albuquerque and Dallas. Pioneer used DC-3 aircraft and other stops along the route included Santa Fe to the west and Tucumcari and Clovis, New Mexico as well as Lubbock, Abilene, Mineral Wells, and Fort Worth, Texas to the east. Service to Las Vegas was also suspended in 1952 and never returned. Pioneer did introduce a larger aircraft, the Martin 202, about this time and it is not known if the 202 served Las Vegas.
After about 15 years without commercial air service, Trans Central Airlines, a smaller commuter carrier using Cessna 402 aircraft, served Las Vegas from the late 1960's and into 1970 with a similar north-south route between Denver and Albuquerque. Other stops included Trinidad and Pueblo to the north while nonstop flights to Albuquerque were operated to the south.
Ameriflight provided air freight feeder service to Las Vegas on behalf of UPS from September, 2014 through 2019. The carrier used Piper Navajo aircraft on an Albuquerque – Las Vegas – Tucumcari – Albuquerque route. Ameriflight briefly suspended service in early 2017 and was replaced by Aero Charter Transport using a Cessna 208 Grand Caravan. Ameriflight resumed service to both Las Vegas and Tucumcari by Fall 2017 but ended service again in 2019. South Aero then began feeder service for UPS using Cessna 404 Titan aircraft. South Aero services continues today.