Las Cruces International Airport
Commercial Airfield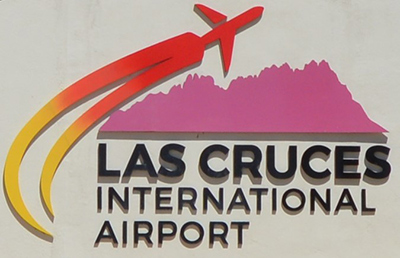 The Las Cruces International Airport is a commercial airport serving Las Cruces, the Mesilla Valley, and Dona Ana County in southern New Mexico. It has three runways, one of which is capable of handling larger jet aircraft. The airport currently receives service by one commuter airline with flights to Albuquerque that are subsidized through the Rural Air Service Enhancement program funded by the State of New Mexico.
The facility was constructed by the United States Army in the early 1940's and the current terminal was erected in 1979. First referred to as the Las Cruces Municipal Airport, the name was changed to the Las Cruces-Crawford Airport by 1978 and to the current status as the Las Cruces International Airport in 1984. The airport saw regular commercial airline service from 1948 until 2005 then after an 18-year absence, commuter airline service was revived in early 2023. Occasional charter airline flights will operate through the Las Cruces airport using larger jet aircraft such as Airbus A319's, A320's, Boeing 737's and MD-80's. Allegiant Air and Sun Country Airlines typically operate these charter flights to transport the New Mexico State University football team as well as opposing college teams for games during the fall season.
There were several other airfields in the Las Cruces area in the 1940's through 1960's however it is believed that all commercial airline service went through the current Las Cruces International Airport which is about nine miles west of the city. Due to its close proximity to El Paso, Texas, most passenger traffic from Las Cruces uses the El Paso International Airport.
Historical commercial airline service:
Air Terminal
Commercial airline service first started at Las Cruces on October 12, 1948 when Pioneer Air Lines began flights with Douglas DC-3 aircraft on a route between Amarillo and El Paso, Texas stopping at Clovis, Roswell and Las Cruces, New Mexico. The route was later modified to stop in El Paso then terminate in Las Cruces before the entire route ended by mid-1950.
Continental Air Lines began service to Las Cruces on February 18, 1950 by adding a stop at the airport along the carriers' mainline route between El Paso and Denver. Stops were also made at Truth or Consequences, Socorro, Albuquerque, Santa Fe, Las Vegas, and Raton in New Mexico then Trinidad, Pueblo, and Colorado Springs in Colorado. Continental also used DC-3 aircraft and the service ended on August 30, 1954. Continental's Las Cruces service was showing much improvement and had been considered to continue however the Civil Aeronautics Board awarded new service to Alamogordo on the El Paso to Denver route instead which cancelled out the service to Las Cruces.
Frontier Airlines began serving Las Cruces when the carrier first evolved on June 1, 1950 as part of a merger with Arizona Airways. Arizona had the route authority between El Paso and Phoenix but the carrier had suspended operations before this route had started. The route included stops at Las Cruces, Deming, and Lordsburg in New Mexico as well as Clifton and Safford, Arizona. A stop at Silver City was added in late 1951. Frontier also used DC-3 aircraft but the service was short lived, ending in April, 1953.
Note: It is not known but appears that for a short time in 1950 all three of the above carriers may have served Las Cruces simultaneously. Continental and Frontier were both there together from 1950 through 1953.
Bison Airlines served the city in 1963 and 1964 with an Albuquerque-Las Cruces-El Paso route. Bison used DeHavilland Dove and Aero Commander aircraft.
Aztec Airlines operated an El Paso-Las Cruces-Silver City route in 1966-1967 using a Piper Aztec aircraft.
Zia Airlines was a home grown carrier based in Las Cruces beginning service in 1974 with a Santa Fe-Albuquerque-Las Cruces-El Paso route. The El Paso extension was soon dropped and some flights on the Albuquerque-Las Cruces portion would later stop at Alamogordo or Silver City. Zia began using Cessna 206 and Cessna 402 aircraft then upgraded to Handley-Page Jetstreams before the carrier ceased operating on May 12, 1980.
Stahmann Farms of Las Cruces created an airline and operated a Las Cruces – Albuquerque – Santa Fe route for a very short time in 1980 after Zia Airlines ended service. Cessna 402 aircraft were used.
Airways of New Mexico began service from Las Cruces to Albuquerque and El Paso in 1981 also using Cessna 402 aircraft. The El Paso flights were soon dropped and some Albuquerque flights later began stopping in Alamogordo. The carrier ceased operating on March 30, 1985.
JetAire began as an airline with a Las Cruces-Albuquerque route on January 16, 1985 using a Handley-Page Jetstream aircraft. The service was brief as the carrier ceased operating about one year later.
Mesa Airlines began serving Las Cruces from Albuquerque on April 1, 1986 using Beech 99 aircraft. The service was later upgraded with Beech 1900 aircraft and some flights would stop at Alamogordo. Mesa's operation at Las Cruces continued until January 20, 2001.
Westward Airways served Las Cruces beginning on November 30, 2004 with flights to Albuquerque. Pilatus PC-12 aircraft were used and new flights to Phoenix began on April 5, 2005. The carrier ceased operating about three months later.
Advanced Air began service from Las Cruces to Albuquerque on January 16, 2023 using Beech Super King Air 350 aircraft. This service was made possible through a Rural Air Service Development program funded by the State of New Mexico and the City of Las Cruces. It is the first service to Las Cruces in nearly 18 years.
Las Cruces has also been served by several air freight providers:
Baron Aviation provided feeder service on behalf of FedEx in the 1990's using Cessna 208 Caravan aircraft.
South Aero provided feeder service on behalf of UPS until September, 2014. The carrier used Cessna 208, 402, and 404 aircraft on flights to Albuquerque and returned to Las Cruces in December, 2016.
Ameriflight began feeder service on behalf of UPS in September, 2014. The carrier used Piper Navajo aircraft but suspended service in December, 2016.
Las Cruces also sees many large charter aircraft particularly by Sun Country and Allegiant Airlines during the fall months of each year. The charters are used to transport the New Mexico State University Football team as well as opposing teams:
Allegiant Air began flying charters through Las Cruces in 2017 using McDonnell Douglas MD-80, Airbus A319 and A320 aircraft.
Elite Airways, a charter carrier that operated regional jets, ran frequent charter flights to Space Port America in New Mexico and the Mojave Air and Space Port in California from September 27, 2020 through December 13, 2021. The carrier flew CRJ-200, CRJ-700, and CRJ-900 regional jets.
Sun Country Airlines has been flying charters to Las Cruces since 2018 using Boeing 737-800 aircraft. On December 27, 2022, three Sun Country 737-800's were on the ground at Las Cruces simultaneously after returning from Detroit, Michigan where the NMSU Aggies played in the Quick Lane Bowl Game.