Gallup Municipal Airport
Commercial Airport
The Gallup Municipal Airport is a commercial airport serving Gallup and McKinley County, New Mexico. The airport is believed to have opened in the late 1940's and took on the name Senator Clarke Field before changing to Gallup Municipal Airport in the early 1980's. Gallup is now served by a commuter airline with flights to Phoenix, Arizona that are subsidized through the Rural Air Service Enhancement program funded by the State of New Mexico.
Historical commercial airline service:
Commercial Airline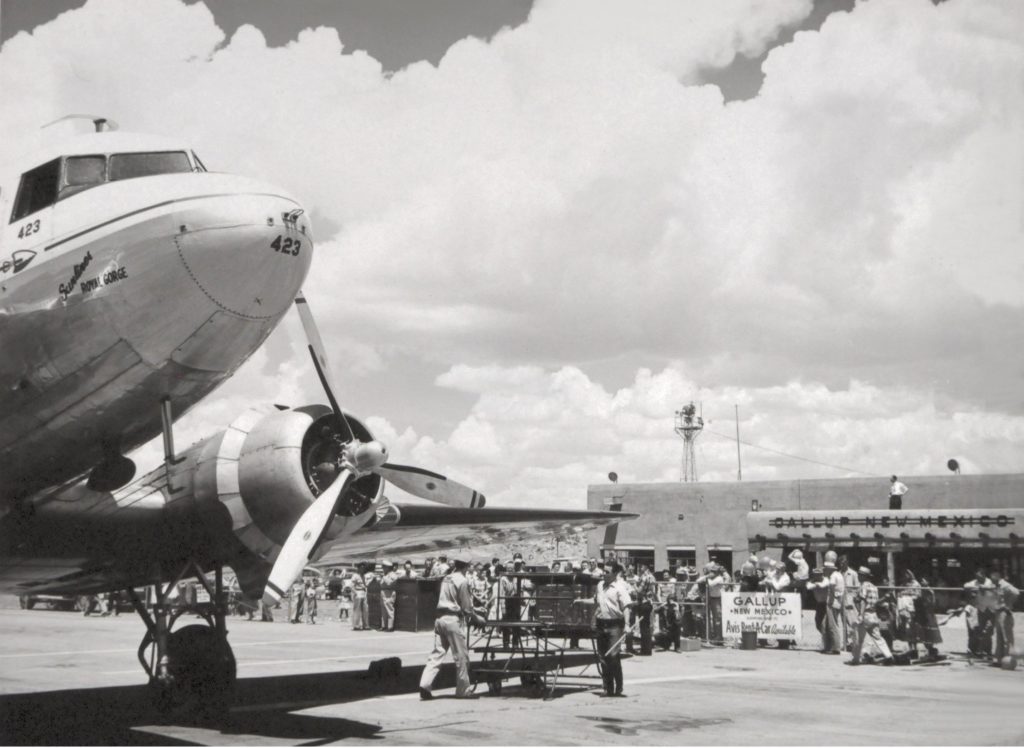 A Frontier Airlines Douglas DC-3 at the Gallup airport in the 1950's.
The first commercial airline to serve Gallup was Monarch Airlines which began flights between Albuquerque and Salt Lake City in the late 1940's using Douglas DC-3 aircraft. Monarch's initial start date for the Gallup service was delayed from April 1, 1947 while awaiting completion of the building of the Gallup Airport. Gallup became the first of many stops along the Albuquerque-Salt Lake route which also included Farmington in New Mexico, Durango, Cortez, and Grand Junction in Colorado, as well as Price and Provo in Utah. On June 1, 1950 Monarch Airlines merged with two other local service carriers to form the original Frontier Airlines. A new route was then added between Denver and Phoenix which included stops at Colorado Springs, Pueblo, Alamosa, Monte Vista, Durango, Farmington, Gallup, Winslow, Flagstaff, and Prescott. Several of the stops had been discontinued over the next few years and larger Convair 340 and Convair 580 aircraft replaced the DC-3's by the mid 1960's. The direct flights to Salt Lake City ended about 1960 and the flights to Phoenix ended in early 1979. Frontier discontinued all service to Gallup on October 25, 1981 ending the remaining flights to Albuquerque and Denver. 
As Frontier Airlines was designated as a local service airline by the United States government and was serving Gallup at the time of airline deregulation in 1978, Gallup was guaranteed commercial air service under the Essential Air Service (EAS) program with government subsidy. While Frontier was winding down their service to Gallup beginning in 1979, smaller commuter airlines then began service.
Cochise Airlines served Gallup from late 1979 through early 1980 with a single flight to Phoenix stopping in Winslow and Flagstaff, Arizona. The carrier used a Swearingen Metroliner and De Havilland DHC-6 Twin Otter aircraft.
Desert Airlines came to Gallup on October 8, 1979 with flights to Albuquerque and Phoenix using Piper Navajo aircraft. The flights to Phoenix also stopped in Winslow and Flagstaff, Arizona and service continued until the carrier ceased operating in early 1980.
Sun West Airlines began serving Gallup in 1980 with flights to Albuquerque and Phoenix using Piper Navajo's and later upgrading to Beechcraft C99 aircraft. Some flights to Phoenix stopped in Winslow or Flagstaff, Arizona and flights from Phoenix continued onto Farmington and Durango. Sun West received the EAS contract to serve Gallup after Frontier ended their service in 1981. All Sun West flights ended on March 5, 1985 when the carrier ceased operating.
Mesa Airlines started service to Gallup on May 1, 1985 under the EAS program after the failure of Sun West Airlines. Service started with flights to Albuquerque using Beechcraft C99 airliners. Service to Phoenix and Farmington was added in late 1985 and all flights were upgraded to Beechcraft 1900's over the next few years. The Albuquerque flights ended in 1989 and the Phoenix flights began operating as America West Express on behalf of America West Airlines in 1992. For a short time in 1994, two of the several daily flights to Phoenix were upgraded to larger Embraer Brasilia aircraft (most flights from Phoenix to Gallup continued to and from Farmington). The America West Express service to Phoenix ended in 1999 at which time flights to Albuquerque were reinstated under the Mesa Airlines brand. All service ended on November 16, 2002 as the airport lost its eligibility for EAS subsidies due to low passenger traffic.
After a pause of two and a half years without commercial service, Westward Airways initiated flights from Gallup to Albuquerque and Phoenix on April 5, 2005 but all service ended just over three months later on July 14, 2005 when the airline ceased operating. Westward used Pilatus PC-12 aircraft.
Another two years passed with a pause in service until Great Lakes Airlines began flights on July 1, 2007 with a Denver-Farmington-Gallup-Phoenix route. This service was also short lived, ending on March 30, 2008. Great Lakes used Beechcraft 1900D aircraft and some flights to Phoenix stopped at Show Low, Arizona.
After fourteen years without commercial air service, the city of Gallup was able to secure a two-year contract with Advanced Air to provide a single daily flight to Phoenix using an eight-passenger Beechcraft 350 Super King Air. The service was made possible through a $3.5 million dollar grant from the State of New Mexico known as Rural Air Service Enhancement. Flights began on August 1, 2022.
Gallup has also been served by the following airfreight carriers:
Empire Airlines operated as a FedEx Feeder carrier on behalf of FedEx using Cessna 208B Super Cargomaster aircraft for many years. One daily flight was operated on an Albuquerque-Durango-Gallup-Albuquerque routing. Beginning June 6, 2022, the FedEx Feeder service was transferred to a new company, Air Dialog, based in Albuquerque. Air Dialog operates the same pattern of service formerly flown by Empire and also uses the same Cessna 208B Super Cargomaster aircraft.
Ameriflight provided feeder service on behalf of UPS with a daily flight to Albuquerque using Piper Navajo aircraft. The carrier began flights in September, 2014 but suspended service to Gallup as of December, 2016. South Aero then took over the feeder service for UPS using Cessna 208, 402, and 404 aircraft.