Roswell International Air Center
International Airfield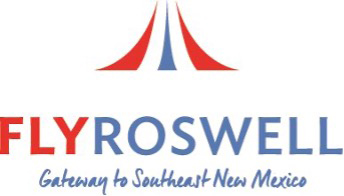 The Roswell International Air Center (RIAC) is a commercial airport serving Roswell and Artesia as well Chavez County, New Mexico. The airport is monitored by a control tower and is classified as Class-D. Many other aviation related businesses are also located on the grounds of RIAC and the field is used for storage of hundreds of retired and idled aircraft. RIAC saw a tremendous surge of stored aircraft during the COVID-19 pandemic in 2020 and 2021. The airport currently receives air service by American Airlines affiliate American Eagle with regional jet flights to Dallas/Fort Worth and Phoenix. The airport also sees passenger traffic from Eddy and Lincoln counties in southeast New Mexico including the cities of Carlsbad and Ruidoso.
RIAC opened in late 1967 on the site of the former Walker Air Force Base, a 4600-acre military installation located five miles south of Roswell which had closed on June 30, 1967. Originally called the Roswell Industrial Air Center, the airfield was renamed to the Roswell International Air Center by 2005. The current air terminal was opened in 1975. Walker Air Force Base, which opened in 1941 as the Roswell Army Airfield, was home to the largest United States Air Force Strategic Air Command when it was closed during a round of base closings due to expenses culminating from Vietnam War.
Roswell was first served through a municipal airport at the northwest corner of the city. It was closed in 1967 after all commercial air operations were moved to the airfield of the former Walker Air Force Base.
Historical commercial airline service:
Air Terminal
Commercial airline service began at Roswell, New Mexico on May 11, 1940 when Continental Air Lines began scheduled flights using Lockheed Electra aircraft. Continental's initial service was an offshoot of their Denver-Albuquerque-El Paso route where one northbound and one southbound flight were routed from Albuquerque to Roswell, Hobbs, and Carlsbad, before ending in El Paso. Within a few years, larger Lockheed Lodestar and Douglas DC-3 aircraft were introduced and the route was directed from Roswell and Hobbs onto Midland/Odessa, San Angelo, and San Antonio, Texas. Another new eastbound route was added from El Paso, Carlsbad, and Hobbs onto Lubbock, Wichita Falls, Lawton, Oklahoma City and ending in Tulsa. Passengers from Roswell could connect at Hobbs to the other route.
A second carrier, Pioneer Air Lines, came to Roswell in 1948 with an El Paso-Las Cruces-Roswell-Clovis-Amarillo route using DC-3's and passengers from Roswell could connect at Clovis with another Pioneer route to Dallas. Pioneer's service to Roswell was short lived however when the entire El Paso to Amarillo route was discontinued in 1950. In the early 1950's Continental acquired new and much larger Convair 240 and 340 aircraft and the eastbound routes were further extended from San Antonio to Houston and from Tulsa to Kansas City. In 1955 Continental merged with Pioneer and a new route was created from Roswell to Dallas. In the early 1960's, Continental began operating 4-engine Viscount aircraft but all service was discontinued on November 5, 1963.
Trans-Texas Airways began service on November 5, 1963, replacing Continental Airlines, using DC-3 aircraft on an Albuquerque-Roswell-Midland-Dallas-Houston route (with multiple other stops) and soon upgraded their flights to Convair 240 and Convair 600 aircraft. In 1967 commercial air service at Roswell was moved from the municipal airport to the former Walker Air Force Base facility which had been closed down. As the new facility had much longer runways, Trans-Texas initiated the first jet service to Roswell using 75-seat Douglas DC-9's. The DC-9's began by April 28, 1968 on a Dallas-Abilene-Roswell-Albuquerque route but were soon redirected to stop at Midland/Odessa rather than Abilene. Trans Texas changed its name to Texas International in 1969 and the following year the westbound DC-9 flights to Albuquerque were extended to Los Angeles. Texas International continued serving Roswell through the 1970's with as many as four DC-9 jets per day plus other flights operating with the Convair 600. Direct flights to Los Angeles were discontinued in 1977. After airline deregulation in 1978, Texas International reduced its service to a single flight to Albuquerque and Dallas/Fort Worth using a 100-seat DC-9-30 jet. Texas International ended its Roswell service on September 30, 1979.
Bison Airlines, based in Roswell, provided flights to Albuquerque, Santa Fe, El Paso, Lubbock, and Midland/Odessa in 1963 and 1964. The carrier used DeHavilland Dove and Aero Commander aircraft.
Solar Airlines, also based in Roswell, served the city in 1964 through 1966 with flights to Albuquerque, Midland/Odessa, and Dallas. The Dallas flights made up to four stops enroute. Solar used Turbo Tradewind and Beech 18 aircraft.
Trans Central Airlines served Roswell briefly in 1970 with flights to Amarillo and El Paso. The carrier used Cessna 402 aircraft.
Roswell Airlines, based in Roswell, served the city from September 15, 1975 through mid-1978 with flights to Albuquerque and El Paso using Piper Seneca and Piper Navajo aircraft. The carrier changed its name to New Mexico Air in 1978. Some flights would make stops at Artesia, Carlsbad, and Ruidoso.
Permian Airways served Roswell in 1979 through 1980 with flights to Amarillo, El Paso, and Midland/Odessa. The carrier used Piper Navajo aircraft.
Zia Airlines served Roswell during 1979 and 1980 with flights to Albuquerque. The carrier used Cessna 402 and Handley Page Jetstream aircraft. Zia changed its name to Air New Mexico in early 1980.
Crown Airlines also briefly served Roswell in 1979 and early 1980 with flights to Albuquerque and Hobbs using Cessna 402 and Piper Navajo aircraft.
Air Midwest was selected to be the primary carrier to replace Texas International Airlines at Roswell beginning service on March 1, 1979. Initial service began with flights to Albuquerque and Lubbock. The Lubbock flights were shifted to Midland/Odessa in 1982 and ended in 1984. Service was also briefly operated to Amarillo in 1980. The carrier used Swearingen Metroliner aircraft and all service ended on January 31, 1986.
Note: Air Midwest, Zia, Crown, and Permian all competed for Roswell service after Texas International vacated the city in late 1979 however by mid-1980 only Air Midwest had survived.
Airways of New Mexico served Roswell in 1983 and 1984 with flights to El Paso using Cessna 402 aircraft.
Great Southwest Aviation briefly operated a single flight from Roswell to Santa Fe three days per week in 1985. The carrier used a Piper Cheyenne aircraft.
Mesa Airlines began serving Roswell on January 15, 1984 with flights to Albuquerque and Lubbock using Beech-99 aircraft. The Lubbock flights were replaced with flights to Midland/Odessa by late 1984 and discontinued in early 1986. Nonstop flights to Dallas/Fort Worth were added in 1987 which operated until 2001 except for a two year absence in 1995 through 1997. Mesa upgraded its aircraft to Beech 1300's and Beech 1900's in the late 1980's and became the primary carrier at Roswell after the departure of Air Midwest in early 1986. At times flights to Albuquerque were operated every hour. Flights from Albuquerque would periodically continue through to Alamogordo, Carlsbad, Clovis, and Hobbs. Service was maintained for nearly 24 years before ending on December 31, 2007.
Trans-Colorado Airlines began service to Roswell immediately after Air Midwest ended their service in February, 1986 with flights to Albuquerque. The carrier became a Continental Express feeder in June 1986 but discontinued all service at Roswell one month later. Trans-Colorado returned as Continental Expresss on April 1, 1987 with flights to both Albuquerque and El Paso, the El Paso flights stopping in Carlsbad. All flights were operated with Swearingen Metroliner aircraft on both occasions and service ended once again only four months later.
Territorial Airlines briefly served Roswell in the summer of 1990 with a single flight to Santa Fe and Albuquerque using a Piper Navajo aircraft.
Texas Airways served Roswell for a very short time in June of 1995 with flights to Dallas using a Beech 1300 aircraft. Mesa Airlines had suspended its Dallas service during this time prompting Texas Airways to begin their service.
Lone Star Airlines began service to Roswell on September 5, 1995 using a Swearingen Metroliner aircraft on a Dallas/Fort Worth-Roswell-Ruidoso-El Paso route. The El Paso leg was discontinued within a couple months and during November of 1995, the carrier operated a Dornier 328 prop aircraft on one of its DFW flights. Lone Star changed its name to Aspen Mountain Air in late 1996 and all service ended on December 31, 1997.
Big Sky Airlines briefly served Roswell on a Dallas/Fort Worth-Hobbs-Carlsbad-Roswell-Denver-Billings, Montana route beginning October 21, 2000. One flight per day was operated in each direction using Swearingen Metroliner aircraft. The route was modified to Dallas/Fort Worth-Carlsbad-Roswell on January 21, 2001 with two roundtrips per day but all service ended two months later on March 26, 2001.
American Eagle, feeder service for American Airlines, began serving Roswell on September 5, 2007 with two daily nonstop flights to Dallas/ Fort Worth using Embraer 145 regional jets. The carrier instantly became the primary airline at Roswell replacing Mesa Airlines. A third DFW flight was soon added and a nonstop flight to Los Angeles was operated in 2009 and 2010. A new westbound flight to Phoenix began in 2016 using a Canadair CRJ-200 regional jet which was upgraded to a CRJ-700 regional jet one year later. The three flights to DFW have also been upgraded with CRJ-700, CRJ-900, and Embraer 175 regional jets beginning in 2017. Contract carriers operating as American Eagle include Envoy Airlines, Mesa Airlines, ExpressJet, and SkyWest Airlines. By the end of 2018, all flights were operating by SkyWest using CRJ-700 aircraft however Envoy would operate one of the DFW flights off and on in early 2020. In April, 2020, during the COVID-19 outbreak, the Phoenix flight was discontinued and service to DFW was reduced to one daily flight. Service was gradually restored in early 2021 and back to a full schedule of three flights to DFW and one to Phoenix by mid-2021. Envoy briefly returned again in December, 2021 operating one of the DFW flights off and on with an Embraer 145. During the month of February, 2023, one American Eagle flight to DFW was again operated by Mesa Airlines using a CRJ-900. The third flight to DFW was suspended on March 1, 2023 and the Phoenix flight was suspended on May 5, 2023 reportedly due to a shortage of pilots. The Phoenix flight is planned to resume in 2024. 
Roswell also has seen regular service from the following airfreight carriers:

South Aero operates on behalf of UPS Airlines with two daily flights to Albuquerque using Cessna 404 Titan and Cessna 208B Grand Caravan aircraft.
Past airfreight providers included:
Baron Aviation operates as FedEx Express on behalf of FedEx. The carrier operated two daily flights from Lubbock using Cessna 208B Super Cargomaster aircraft however service was discontinued on December 31, 2022.
Ameriflight provided two daily flights to Albuquerque on behalf of UPS Airlines during the 2010s. The carrier used Piper Navajo and Beechcraft 99 aircraft.
Martin Aire served Roswell on behalf of DHL using Cessna 208 Grand Caravans in the 2000's.