Lindbergh's Curtiss O-1 Falcon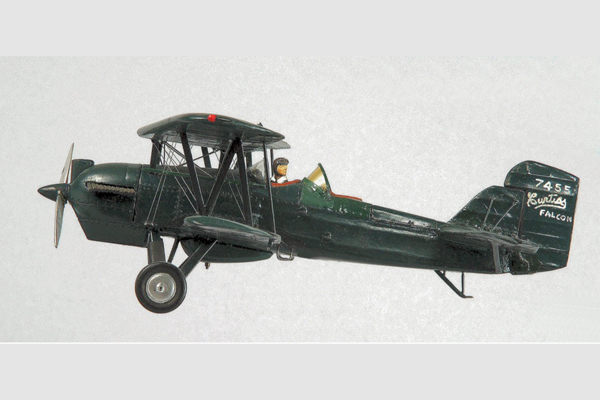 First Albuquerque Visit: 1929
The Curtiss Falcon was a military biplane aircraft built by the American manufacturer Curtis Aeroplane and Motor Company during the 1920s. Many Falcon's saw service with the United States Army Air Corps as an observation aircraft with the designation O-1. Charles Lindbergh chose the Falcon to survey the route to be flown by Trans-Continental Air Transport Inc (TAT). The plane could cruise as fast as the Ford Tri-Motor and Lindbergh could figure the time schedules required to fly the routes proposed. The Albuquerque location was chosen as one of the stops for the aviation airways system being laid out across the United States in July of 1929.
The plane numbered NC-7455 became a frequent visitor to Albuquerque when Lindbergh used the plane to tour the west and photograph Canyon de Chee along with many other Indian ruins from the air while based at a ranch near Pecos NM.
A photo shows the plane on the ranch near Pecos where it flew many photographic flights to help map the Indian ruins around New Mexico. Lindbergh became interested in working with archeologists after having spotted a Mayan capital under the jungle in the Yucatan in one of his earlier Pan American Airways survey flights. Lindbergh was credited with inventing aerial archeology while using an airplane.
Lindbergh's Curtiss Falcon is seen parked on Oxnard Field in the late 1920's.
Below is the Falcon at a stop in Las Vegas, New Mexico while on his survey flight for the airline route. One of the reasons Las Vegas was not chosen as a TAT airline stop was because the train schedules did not meet the airline proposed connections.