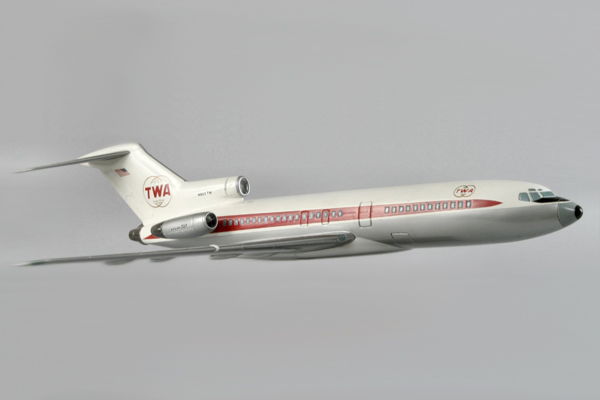 First Albuquerque Visit: 1965
Trans World Airlines, "TWA", added Boeing 727 jet service to Albuquerque in late 1965. The first TWA 727 flight flew to Amarillo, Texas and was operated with aircraft tail number N853TW. Two versions of the 727 were built, the original -100 series and later the longer -200 version also known as the "stretch" 727. The aircraft was ideal for short haul flights to smaller airports but was soon used on most all flights at Albuquerque and became the most used aircraft for TWA at the Sunport during the 1970's and 1980's. One unique feature was the plane had a built in drop down stairway underneath the fuselage at the rear of the aircraft for enplaning and deplaning passengers.
The black and white image below shows a TWA 727-100, N833TW, at the old terminal of the Albuquerque Sunport which was still in use when the 727 began service.