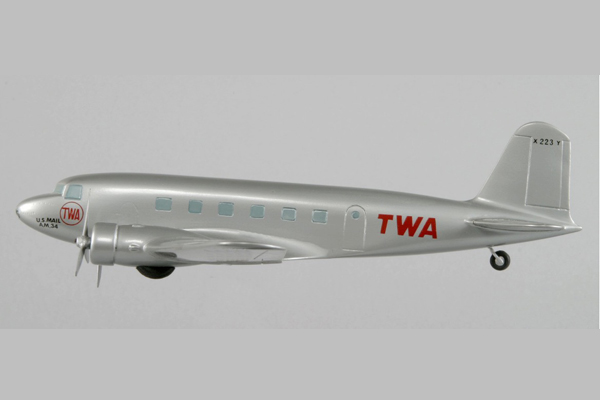 Transcontinental and Western Airlines
First Albuquerque Visit: 1933
In the early 1930's, Douglas was developing a new transport for the airlines starting with the DC-1. To help prove that the plane could fly at higher altitudes and on one engine, a test was conducted. The test took place on September 11, 1933 from Winslow, Arizona to Albuquerque crossing over the Continental Divide with a full load using only one engine. Trans-Continental and Western Airlines (TWA) was hoping to open the airways to the new world of aviation with this aircraft. It was the first commercial airliner that could operate on one engine. The increased dependability, speed, and capacity made air travel acceptable to the general public. The DC-1 toured TWA's routes to prove the design would fill the airlines needs. The DC-1 was only a prototype and, with some design changes, became the DC-2 that Douglas began to supply the airlines.
The single engine flight from Winslow to Albuquerque was flown with the later famous pilot Eddie Allen that died in a crash while testing the B-29. The co-pilot was D.W. Tomlinson. The flight was filled to capacity with special TWA leaders and press.
The DC-1 flight started from the Glendale Airport in California. The lower photo below shows the famous Grand Central Air Terminal in the back.