USAAF Beechcraft AT-11 Kansan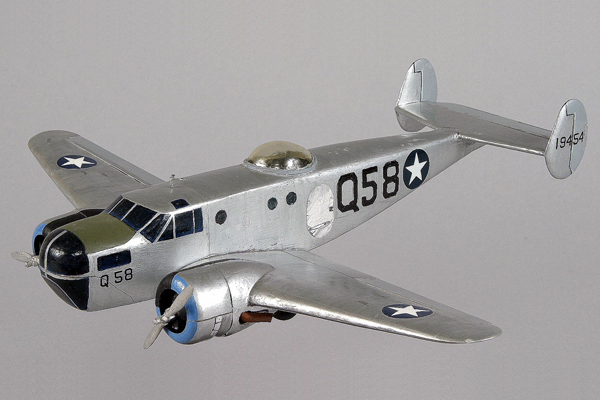 First Albuquerque Visit: Used by USAAF Bombardier School at Kirtland Field from 1942 through 1945.
The Beechcraft AT-11 Kansan bombardier trainer was used by the US Army Air Forces Bombardier School located at Kirtland Field in Albuquerque, New Mexico from 1942 through 1945.  More than 150 AT-11 aircraft were assigned to Kirtland Field during the war.
The aircraft had a glass-enclosed bombardier station built into the nose, mirroring the design of the B-17, B-24, and B29 bombers and carried 10 100-pound sand-filled practice bombs. In 1943 the USAAF established a minimum proficiency standard of 22 percent hits on target for trainees. After Sept. 30, 1943, the AT-11 usually carried a Norden Bombsight and a C-1 automatic pilot, which allowed the bombardier student to guide the aircraft during the bombing run.
The AT-11 was the standard U.S. Army Air Forces World War II bombing trainer; about 90 percent of the more than 45,000 USAAF bombardiers trained in AT-11s. Like the C-45 transport and the AT-7 navigation trainer, the Kansan was a military version of the Beechcraft Model 18 commercial transport. Modifications included a transparent nose, a bomb bay, internal bomb racks and provisions for flexible guns for gunnery training. There were several bombardier schools located in the Southwest during the war.