USAF Convair B-58 Hustler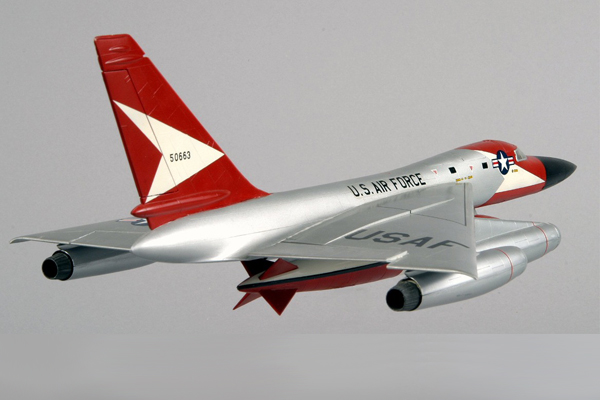 First Albuquerque Visit: 1963
The Convair B-58 "Hustler", was designed and produced by the American aircraft manufacturer Convair, and was the first operational bomber capable of Mach 2 flight.  The B-58 was developed during the 1950s for the United States Air Force (USAF) Strategic Air Command (SAC). To achieve the high speeds desired, Convair chose a delta wing design used by contemporary interceptors such as the Convair F-102. The bomber was powered by four General Electric J79 engines in underwing pods. While it had no bomb bay compartment it carried a single nuclear weapon plus fuel in a combination bomb and fuel pods underneath the fuselage. Later, four external hardpoints were added, enabling it to carry up to five weapons. The B-58 entered service in March 1960, and flew for a decade with two SAC bomb wings – the 43rd Bombardment Wing and the 305th Bombardment Wing.  Difficult to fly, the B-58 also became notorious for its sonic boom as it entered supersonic flight.
The Convair B-58, 50663, was given its "pod adaptation" trials at the Kirtland Air Force Base's weapons center in 1963. This bomber was designed to deliver nuclear weapons at several times the speed of sound. 
The plane was on display in 1963 for the Kirtland Air Force Base Armed Forces Day celebration. This was one of the first opportunities for the public to see this hot new bomber.