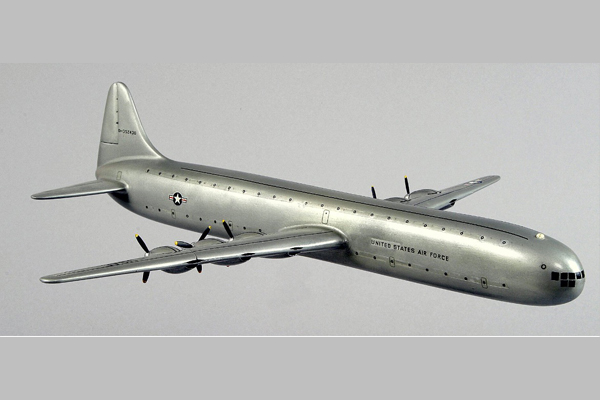 First Albuquerque Visit: 1947
The Convair XC-99, AF Ser. No. 43-52436, is a prototype heavy cargo aircraft built by Convair for the United States Air Force. It was the largest piston-engine land-based transport aircraft ever built and was developed from the Convair B-36 Peacemaker bomber, sharing the wings and some other structures from that plane. The first flight took place on 24 November 1947 in San Diego, California and after testing it was delivered to the Air Force on 26 May 1949.
The aircraft underwent extensive testing in 1947 at Kirtland Air Force Base.  The design capacity of the XC-99 was 100,000 lb of cargo or 400 fully equipped soldiers on its double level cargo decks. A cargo lift was installed for easier loading. The four engines face to the rear in a pusher configuration.
The US Air Force determined that it had no need for such a large, long-range transport at that time, and no more aircraft were ordered. The sole XC-99 served until 1957 when it was retired.
The paint scheme changed in the 1950's.