USAF General Dynamics F-111A Aardvark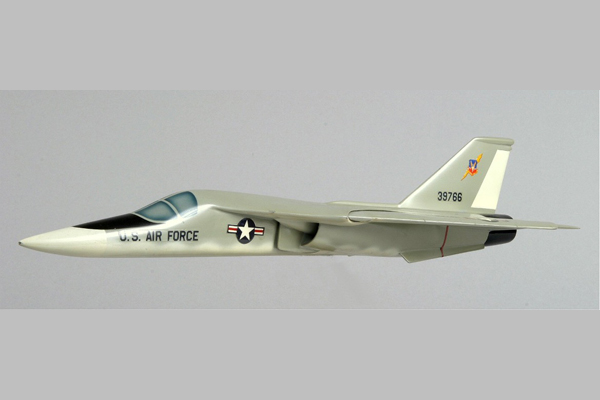 First Albuquerque Visit: 1967
The General Dynamics F-111 "Aardvark" is a supersonic, medium-range combat aircraft. With a variable sweep wing, the fighter was at Kirtland Air Force Base for performance evaluation tests in 1967. The wings are positioned straight for landings, take off, and slow flight. The wings sweep back for supersonic flight. It was anticipated that this will become the second tri-service fighter. The entire cockpit would separate from the fuselage in an emergency rather than relying on each pilot to eject. The crew capsule was carried aloft by a B-52 attached to the Kirtland Special Weapons Directorate to test its parachutes and descent characteristics when here in 1967. In November of 1979, the F-111 was used for radiation exposure tests. A special structure was built to expose the aircraft to radiation in the vertical (nose down) and horizontal position. Several tail numbers that have been documented at Kirtland include: 0-38774, 39774, and 56709.
The word "aardvark" is Afrikaans for "earthpig" and reflects the look of the long nose of the aircraft that is similar to the nose of the aardvark. The origin of the name has been attributed to F-111A Instructor Pilot Al Mateczun in 1969, as the aircraft had not received an official USAF name. The aircraft after many improvements became a very effective weapon.
The F-111D was an upgraded F-111A equipped with newer Mark II avionics, more powerful engines, improved intake geometry, and an early glass cockpit.  This aircraft model was first ordered in 1967 and delivered from 1970–73 after several delays due to problems with the avionics systems. The F-111D reached initial operational capability in 1972 and the sole operator of this model was the 27th Tactical Fighter Wing stationed at Cannon Air Force Base in New Mexico. There were 96 F-111D model built for the Air Force. The F-111D was withdrawn from service in 1991 and 1992.