NM Air National Guard Douglas C-47 Skytrain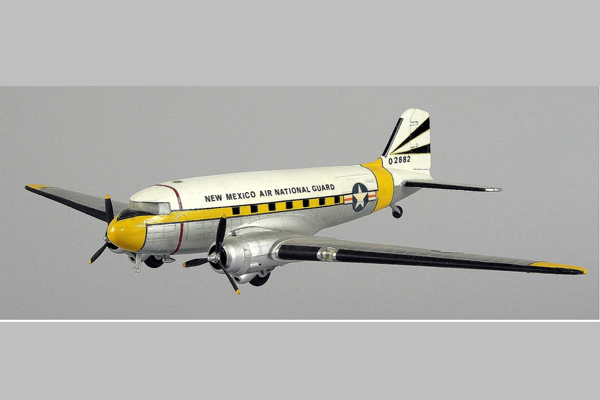 First Albuquerque Visit: 1947
The Douglas C-47 "Skytrain" is a military transport aircraft developed from the civilian Douglas DC-3 airliner. The C-47 was used for troop transport, cargo hauling, paratrooper transport, and for towing gliders and military cargo parachute drops. The C-47 remained in front-line service with various military operators for many years.
The New Mexico Air National Guard was based at Kirtland Air Force Base. The Air Guard's 188th Fighter Interceptor Squadron had several C-47 "Gooney Birds" assigned at Kirtland from 1947 to 1966. One aircraft, 0-2882, was used to drop hay to cattle that were stranded during a blizzard in December of 1959. Two other aircraft deployed at Kirtland, numbers 22-3882 and 330691, were later converted to the AC-47 "Spooky", a gunship variation that used three 7.62 mm miniguns and was often nicknamed the "Puff the Magic Dragon" during service in the Vietnam War.
Photos of the New Mexico Air National Guard's C-47 variations that were assigned to the unit at Kirtland AFB.
A NM Air National Guard C-47 dropping hay to cattle stranded during a blizzard in December of 1959.
An early C-47 assigned to the NM Air National Guard, is seen on the apron at Kirtland AFB with a NM Air National Guard P-51 and AT-6.