USAAF Bell P-59A Airacomet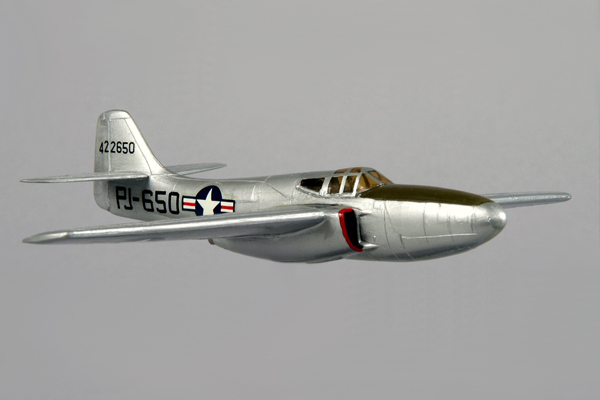 First Albuquerque Visit: 1946
The Bell P-59 Airacomet was a single-seat, twin jet-engine fighter aircraft that was designed and developed in great secrecy during World War II by Bell Aircraft.   As the British were further along in jet engine development, they donated an engine for the United States to copy in 1941 that became the basis for the General Electric J31 jet engine used by the P-59 a year later. The aircraft underwent testing at Kirtland Field from 1946 to 1947. Shortly afterwards the United States Army Air Forces (USAAF) declared the plane obsolete because the plane was underpowered which limited its performance and canceled half of the original order for 100 fighters.  The completed aircraft were then used as trainers. The USAAF would instead go on to select the Lockheed P-80 Shooting Star as its first operational jet fighter. Although no P-59s entered combat, the aircraft paved the way for later generations of U.S. turbojet-powered aircraft.
Aircraft number 422650 was on display at the New Mexico Air National Guard Headquarters in the 1950's.
One of the fifty Air Comets built is shown undergoing testing in Muroc AFB in the mid 1940's.
A Bell P-59A on display at the US Air Force Museum in Wright Patterson AFB, Ohio.