USAF Boeing B-52 Stratofortress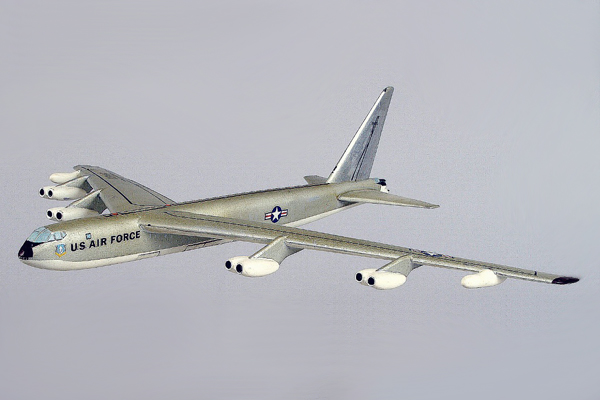 First Albuquerque Visit: 1955
In 1955, the Boeing B-52 Stratofortress was the newest US Air Force intercontinental bomber to enter service as the main bomber aircraft for the Strategic Air Command. The capabilities of this bomber to carry and use special weapons and conventional bombs were tested at Kirtland Air Force Base from 1955 until the 1980's. The B-52 received electronic-systems that were used to transport, arm, and release special weapons during drop tests for the Nuclear Weapons Laboratories. All of the generations of nuclear weapon devices that the Air Force had in its inventory were tested through the years starting with the Mark 5 and up to the more recent B61.
One B-52, 0-20013, dropped the first thermonuclear weapon in May of 1956 on Bikini Island as part of the Operation Redwing series. The test, called Cherokee, was designed to study new concepts in weapons technology. This aircraft is currently on display at the National Museum of Nuclear Science and History, formally known as the National Atomic Museum, in Albuquerque.
The B-52 aircraft, tail number 0-20013, is seen on the flight line in the 1950's.