USAF Boeing B-47B Stratojet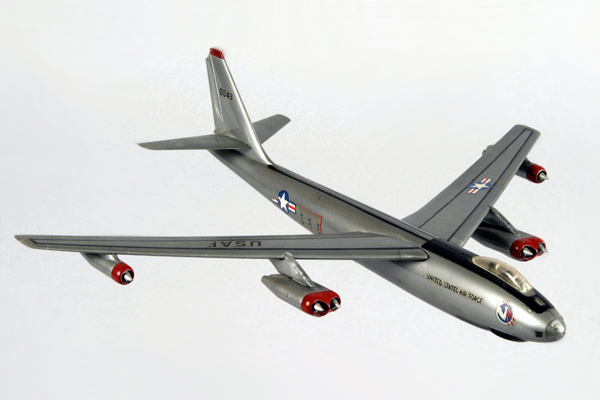 First Albuquerque Visit: 1951
The Boeing B-47 Stratojet is a long-range, six-engine, turbojet-powered strategic bomber designed to fly at high subsonic speed and at high altitude to avoid enemy interceptor aircraft. The primary mission of the B-47 was as a nuclear bomber capable of striking targets within the Soviet Union.
In 1951, the B-47 begam operational service with the US Air Force's Strategic Air Command (SAC), becoming a mainstay of its bomber strength by the late 1950s. Over 2,000 were manufactured to meet the Air Force's demands due to the the Cold War with the Soviet Union. The B-47 was in service as a strategic bomber until 1965, when it was permanently replaced by the Boeing B-52 Stratofortress. The B-47 remained in service as a reconnaissance aircraft until 1969. 
This aircraft was assigned to Kirtland Air Force Base in 1951 as part of the 4925th Test Group (Atomic). The 4925th used the aircraft for special weapons development and for testing the compatibility of nuclear weapons from 1951-1966.
The aircraft was also used during the Joint Task Force 2 exercise at Kirtland. Some of the aircraft that participated include tail numbers 12222, 32347, and 12155.
One of the B-47's on the Kirtland AFB flight line
One of the open house displays held on Armed Forces Day during the 1950's
A B-47 taking off from Kirtland AFB in the 1950's