USAF Convair B-36B Peacemaker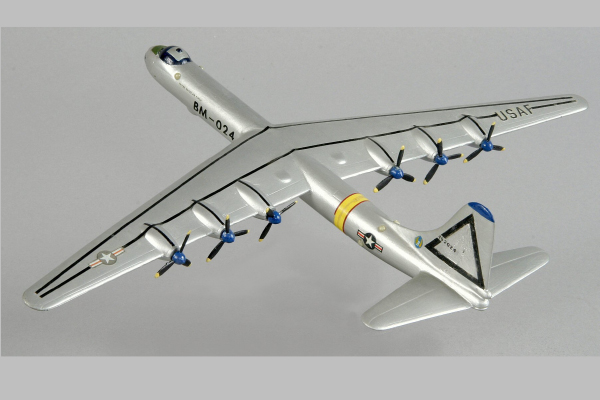 First Albuquerque Visit: 1948
The Convair B-36 B, "Peacemaker" was the first true intercontinental bomber.  It was capable of going on around-the-world patrols similar to the patrols of a warship.  This bomber gave the US Air Forces' Strategic Air Command the capacity to deliver weapon systems anywhere in the world.  Weapons evaluation tests and weapons testing for several nuclear MK-5, 6, 8, 17, and 18 Bombs were performed at Kirtland Air Force Base by the 4925th Test Group (Atomic).  The first B-36 aircraft (number # 492024) to visit Kirtland in 1948 was from 7th Bomb Wing based at Carswell AFB, Fort Worth, Texas.  One of the B-36's (number aircraft #492043) made a wheels-up landing on Kirtland AFB.
Newspaper clipping of the belly-landing on Kirtland.
The plane could fly over 400 mph at 43,000 ft and fly a distance of over 8,000 miles. The plane had a crew of 16 some of which were relief to the pilots because of the long flights.
In the 1950's the military planes had the high visible markings on the tail and wing tips.
A B-36 is seen at Kirtland AFB in the 1950's with the Sandia Mountains on the right.