USAF Douglas C-124 Globemaster II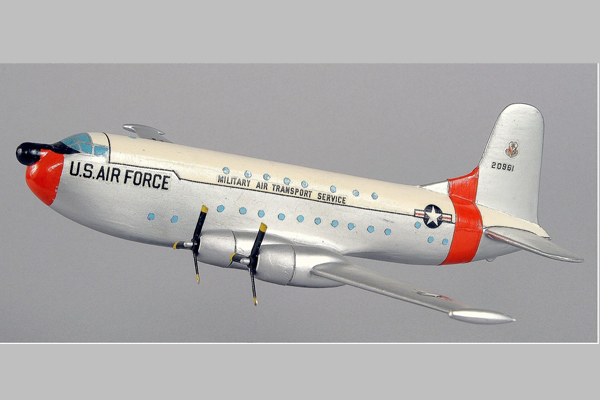 First Albuquerque Visit: 1952
The Douglas C-124 "Globemaster II", nicknamed "Old Shaky", is an American heavy-lift cargo aircraft built by the Douglas Aircraft Company in Long Beach, California.  The C-124 was the primary heavy-lift transport for United States Air Force Military Air Transport Service (MATS) from 1950 until the early 1960s when the Lockheed C-141 Starlifter entered service. The C-124 served first for MATS until 1966 and then later for the retitled Military Airlift Command (MAC) along with units of the Air Force Reserve and the Air National Guard until the aircraft retired in 1974.
The USAF's Strategic Air Command (SAC) was the initial operator of the C-124 Globemaster, with 50 aircraft in service from 1950 through 1962. SAC's primary duty was to transport nuclear weapons between Air Force bases and to provide airlift of SAC personnel and equipment during exercises and overseas deployments.
The Douglas C-124 was a frequent visitor to Kirtland Air Force Base from 1952 until 1972. The 4900th Air Base Group on Kirtland AFB had aircraft numbers 20961 and 502249 assigned here. One C-154, aircraft number 20099, crashed while landing during a dust storm at Kirtland Air Force Base on September 7, 1955, after arriving from Biggs Air Force Base.
Photo shows one of the many C-154 Globemaster's that landed at Kirtland AFB.  Several New Mexico Air National Guard F-80's can be seen in the background.
The large cargo doors enabled the Globemaster to carry oversized loads.
A photo shows a C-154 Globemaster taxiing on Kirtland AFB.
On September 7, 1955, a Douglas C-154 Globemaster crashed while landing on Kirtland Air Force Base during one of the largest dust storms the Albuquerque area had experienced at that time.  Eventually, continued development around Kirtland Air Force Base has minimized the chance for severe dust storms.