USAF Douglas C-133 Cargomaster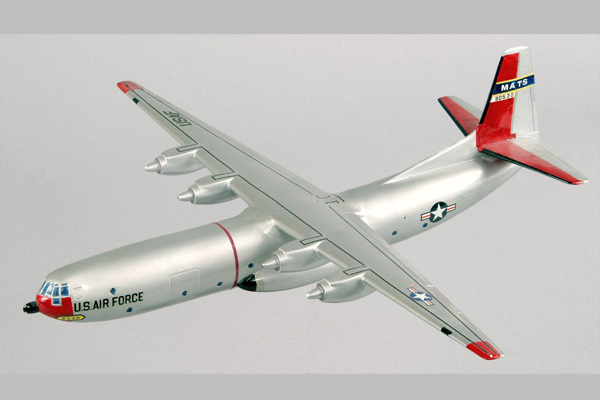 First Albuquerque Visit: 1964
The Douglas C-133 "Cargomaster" is an American large turboprop cargo aircraft built between 1956 and 1961 by the Douglas Aircraft Company for the United States Air Force (USAF). The C-133 was the USAF's only production turboprop-powered strategic air cargo aircraft, entering service shortly after the Lockheed C-130 "Hercules", which was then designated a tactical air cargo aircraft. The C-133 provided heavy airlift services in a wide range of applications before being replaced by the Lockheed C-5 "Galaxy" in the early 1970s.
The C-133 was for many years the only USAF aircraft capable of hauling very large or very heavy cargo.  The C-133 continued in service after the formation of the USAFs Military Airlift Command on 1 January 1966. By 1971 and shortly before the introduction of the C-5, the C-133 was pronounced obsolete as well as being at the end of operational life and all aircraft were withdrawn from service.
The USAF Military Air Transport Service (MATS) provided logistical support to Kirtland Air Force Base along with Sandia Laboratories beginning in 1964. The C-133 came to Kirtland AFB to provide that support on many occasions. Some of the aircraft that were documented at Kirtland AFB include 90530, 0-50228, and 0-53120.