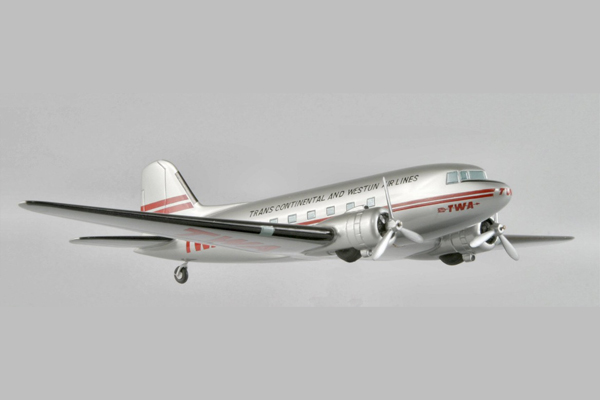 First Albuquerque Visit: 1937
The Douglas DC-3 was flown by Transcontinental and Western Airlines, TWA, from 1937 until the mid 1950's. The DC-3 began regular service to Albuquerque in 1937, supplementing and replacing its predecessor, the DC-2.The DC-2 and DC-3 would be the only aircraft TWA would fly during the World War II years of 1942 through 1945. Early versions of TWA's aircraft carried the title "The Lindbergh Line" followed by "The Transcontinental Line".  TWA changed its name to Trans World Airline in 1946, keeping the TWA abbreviation, and two red stripes were painted on the fuselage of the aircraft along with a new logo that included an indian arrow. In the summer of 1946, TWA flew 34 flights per day through Albuquerque, 17 eastbound and 17 westbound. All were flown with DC-3's and all were routed over TWA's transcontinental route between Los Angeles and New York, stopping at Winslow, Arizona to the west and at Amarillo, Wichita, Kansas City, and many other cities to the east of Albuquerque. Service to Santa Fe, New Mexico was added to the route in 1948.  The DC-3's were replaced by larger Lockheed Constellation and Martin 404 aircraft by the mid-1950's.
Some of the TWA DC-3's recorded landing at Albuquerque included NC12737, NC1493, and NC1949.
A TWA DC-3 aircraft N1949 on the ramp in front of the Albuquerque Terminal. Below is a rare color photo in Albuquerque, note the AT-11 bombardier training plane in the background.