UAAC Boeing P-26A Peashooter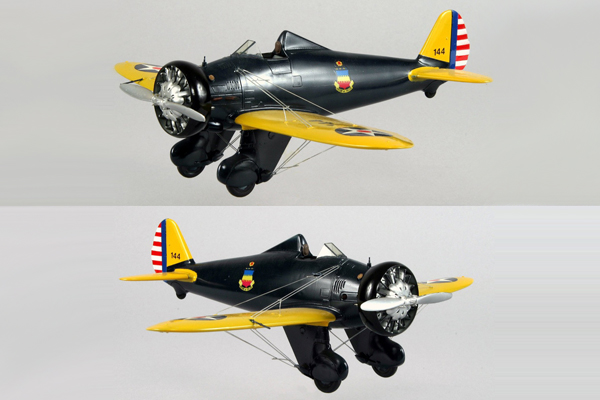 First Albuquerque Visit: 1934
The Boeing P-26 "Peashooter" was the first American production all-metal fighter aircraft and the first pursuit monoplane to enter service for the United States Army Air Corps. Designed and built by Boeing, the prototype first flew in 1932, and the aircraft was still in use with the U.S. Army Air Corps as late as 1941 in the Philippines.
By 1934 over a 151 P-26A's low wing monoplane fighters were added to the Army Air Corps inventory. This pursuit/fighter plane was a frequent visitor to the Albuquerque Airport in the late 1930's. The model represents one of the aircraft that was participating in Army maneuvers in Albuquerque and was attached to the 20th Pursuit Group. Two of the models on display show different color schemes the planes were painted.
The "Peashooter" was faster than previous American combat aircraft. Nonetheless, rapid progress in aviation led to it quickly becoming an anachronism, with wire-braced wings, fixed landing gear and an open cockpit.  By 1935, just three years after the P-26, the Curtiss P-36, Messerschmitt Bf 109 and Hawker Hurricane were all flying with enclosed cockpits, retractable landing gear and cantilever wings. However, some P-26s remained in service until after the United States entered World War II in December 1941.
The plane would be called a fighter (F) to designate this type of aircraft today. But in the1930's the plane was called a pursuit (P) aircraft until World War II when the designation officially became a fighter (F).
A group of planes on Oxnard Field in the 1930's pasting through the Albuquerque area.
The Planes of Fame Air Museum in Chino, California, has a flying example of this plane. The paint scheme shown has been changed from the time that this photo was taken. The Air Force Museum at Wright-Patterson AFB, Ohio, also has A P-26A on display as shown in the lower photo.