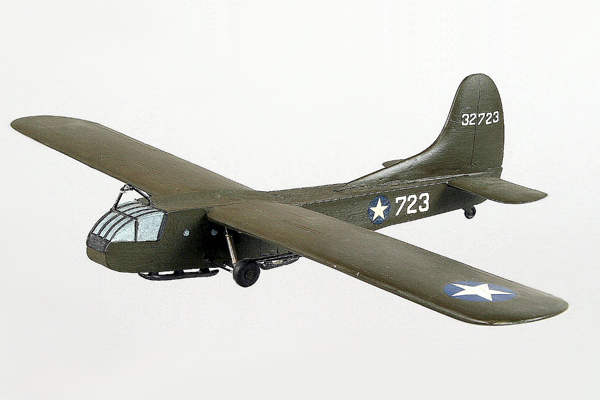 First Albuquerque Visit: 1942
The Waco CG-4 was the most widely used American troop/cargo military glider of World War II. It was designated the CG-4A by the United States Army Air Forces and given the service name Hadrian (after the Roman emperor) by the British.  The glider was designed by the Waco Aircraft Company.  Flight testing began in May 1942 and more than 13,900 CG-4As were eventually delivered.
During World War II, a glider pilot ground school was opened at Kirtland Field in 1942 but was closed in 1943 when the school and flying training was transferred to Ft. Sumner, New Mexico.
From 1942 to 1945, the Ford Motor Company's plant in Kingsford, Michigan, built 4,190 Model CG-4A gliders for use in combat operations during World War II. The Kingsford plant built more CG-4A gliders than any other company in the nation at much less cost than other manufacturers. Sixteen additional companies became prime contractors for manufacturing the CG-4A around the country.
 A typical Waco CG-4A Hadrian troop glider is coming in for a landing.
The photo above shows a C-47 flying low with a pick-up line hanging underneath. A support frame seen on the right supports the hook-up line which is attached to the glider in the center of the photo. The C-47 pasts by the hook-up line is attached and the glider is pulled into the air.
While thousands of gliders were built for the war only a few can be seen in museums today. The one above is at the Air Force Museum in Wright-Patterson AFB, Ohio. The photo on the right is of the cockpit showing the pilot and co-pilots seats This aircraft is at the Pima Air Museum in Arizona.