USAF Boeing B-50 Superfortress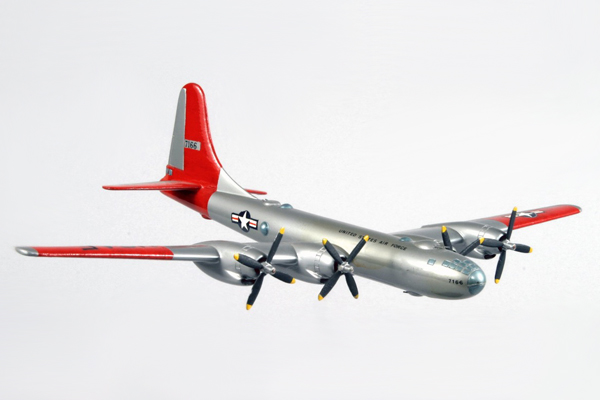 First Albuquerque Visit: 1950
The Boeing B-50 Superfortress is an American strategic bomber that is a post–World War II revision of the Boeing B-29 Superfortress.  It was fitted with more powerful Pratt & Whitney R-4360 radial engines, a stronger internal structure, a taller tail fin, and other improvements. It was the last piston-engine bomber built by Boeing for the United States Air Force.   Although not as well-known as its direct predecessor, the B-50 was in USAF service for nearly 20 years.
This aircraft became the first bomber to be used by the newly formed Air Force Strategic Air Command (SAC). The 4925th Test Group (Atomic) was assigned this aircraft for weapons development at Kirtland Air Force Base from 1950-1957.
In addition, the SAC's 509th Bombardment Wing at Walker Air Force Base, New Mexico received B-50Ds in 1949 and used them until 1954. The mission of this aircraft at Walker AFB was the ability to deliver atomic bombs on enemy targets.
After its primary service with Strategic Air Command ended, B-50 airframes were modified into aerial tankers for Tactical Air Command (TAC) (KB-50) and as weather reconnaissance aircraft (WB-50) for the Air Weather Service.  Two of the aircraft, tail numbers 7169 and 7166, were flown by the 58th Reconnaissance Squadron (Weather), at Kirtland from 1956 to 1958. The model on display shows one of the 58th's aircraft. The red color on the tail and wings were called high visibility markings and were used on many aircraft during the 1950's.
The WB-50D Superfortresses conducted long-range weather flights over the Arctic and along the northern periphery of the Soviet Union; the aircraft being equipped with sensors for detecting radioactive debris to gather evidence when the Soviets tested nuclear devices. The WB-50D aircraft were inactivated in 1958 as part of the phaseout of the WB-50s and the development of faster jet aircraft for the long-range intelligence mission.  Both the tanker and hurricane hunter versions were retired in March 1965.
The photo shows a Mark 4 bomb being loaded in a B-50. The nose of the plane is raised to provide the clearance to fit the bomb into the bomb-bay. Mark 5, 6, 8 test bombs were dropped over Nevada Test Site.
One of the surviving B-50's currently on display at the Air Force Museum.